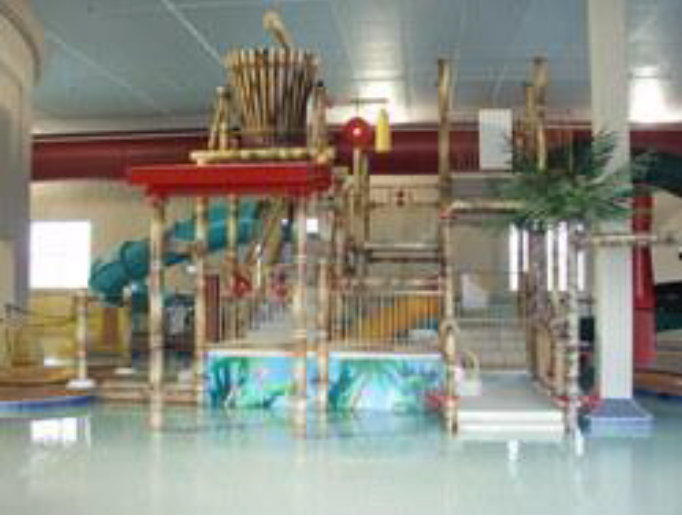 Holiday Inn
Maumee, OH
This water park is a refreshing change from some of standard models that are cluttered with too many support structures for the features and towers. The natatorium was built using a concrete dome structure. This innovative design enabled the atmosphere in the park to be very open and efficient. The concrete structures strength was utilized by hanging the majority of the water slides and starting towers from the ceiling.
The leisure / splash area is designed to accommodate the young and young at heart. It includes a zero-depth or beach type entry, various shallow water play features and several fountain features. The pool has a large multilevel, interactive structure with a large tipping bucket. The structure is filled with valves and water cannons for kids to play with. There are two water slides that empty into a deck mounted run out and one slide that empties into a shallow area in the pool. The pool also includes a water walk area, floating play feature area, and a basketball hoop area.
The other attraction for the older kids and the more adventurous is the flume water slides. Two slides will land in a dedicated plunge pool. The first slide is an enclosed body slide and the second is an enclosed slide for inner tubes that can accommodate one or two riders. The maximum water depth in this area is 3 feet 6 inches opening up into the lazy river for those riders that would like to continue on without getting out of the water. The lazy river is 8 feet wide and 260 feet long. There is an additional body slide attached to the bowl slide. This bowl slide sits on top of its own pool.
For anyone just looking to relax the water park has a large indoor/outdoor spa. The spa includes beautiful murals and a waterfall. For added comfort on those cold days the outdoor deck is equipped with an in floor heating system.