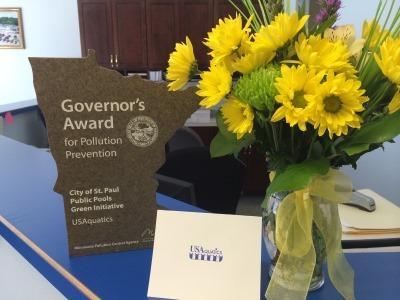 We take pride in our work and ensure that all our designs are unique to meet our client's needs. While staying true to our philosophy, we've been able to lead the aquatics industry with over 26 years of innovations and awards.
USAquatics, Inc. does not follow trends, we set them!
1987 - In our home state of Minnesota, USAquatics personnel were the first to design a wave pool.
1987 - USAquatics personnel were the first to design a zero-depth entry pool.
1989 - USAquatics personnel were the first to design a zero-depth entry indoor pool.
1991 - First to design a total zero-depth perimeter pool.
1996 - First narrow swim channel between areas of large multi-use pools.
1998 - Wet/splash deck.
2001 - Introduced the first ceiling hung ADA lift into the US which can move patrons anywhere in the room.
2001 - Introduced fire fighting pump directly to the pools main drain, with hose connection and electrical controls cabinet outside of the building in Sandstone, MN. Click Here to learn more.
2002 - First cable ride in Minnesota.
2005 - USAquatics and affiliates were the first to install Soft Landing® floor in a water park.
2005 - First in the Midwest to install an interactive light and sound package to a water slide.
2008 - First use of Sphagnum Moss in municipal pools for pre-filter water conditioner.
2011 - Innovator in green technology as with the design for the Como Park Aquatic Center in St. Paul, MN
Winner of Governor's Award for Pollution Prevention
2012 - First aquatic firm to use integrated sustainable aquatic operational systems.
2013 - Sustainable Green program designs and systems development - USAquatics own standardization.
2014 - FDA approved 100% food grade cleaning product development for safer and cleaner aquatic centers.
2014 - BIM (Building Information Modeling) using AutoDesk REVIT 3D for pool design and application.
2015 - Energy Efficiency Modeling system to determine the expected ROI for new technology investment. Development in conjunction with equipment manufactures and Excel Energy.
2016-2017 - Suspended stainless steel Myrtha pool installation for JW Marriot Mall of America hotel. Entire pool is suspended.